Back to all posts
iO Academy heads North!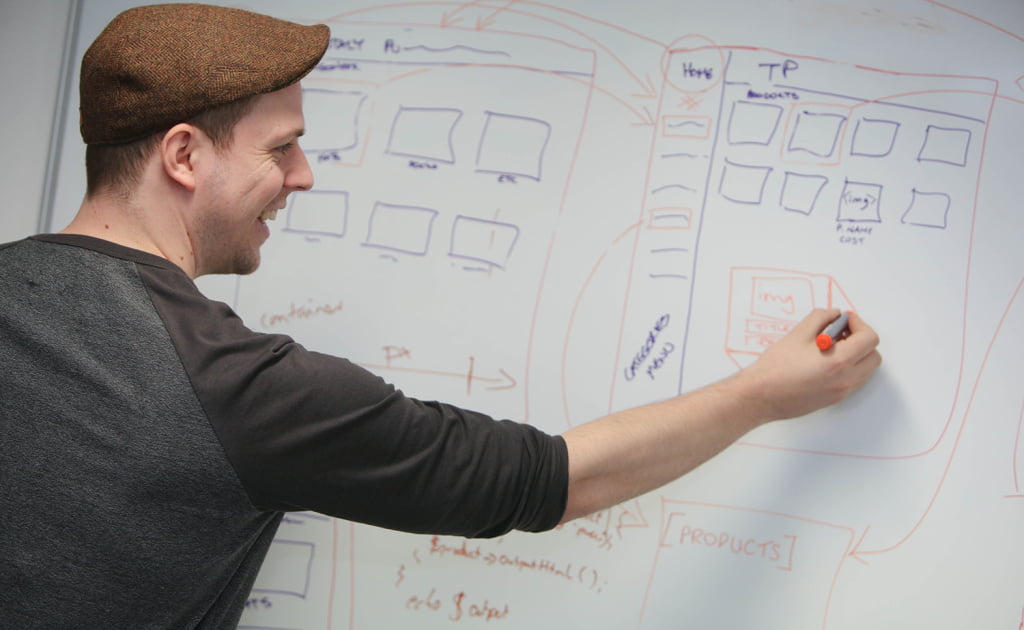 What could be better than one iO Academy? Two of us.
We are excited to announce we are expanding with the launch of a new location in Sheffield.
We have partnered with the newly launched EyUp Skills, a venture from entrepreneur David Richards, founder of the Yorkshire and Silicon Valley based technology company WANdisco, for our expansion to the north. 
Our partnership is formed around the vital role of the tech industry in providing direct and meaningful impact on the digital skills shortage in the UK, bringing real life experience to tech training.
Both iO and EyUp want to ensure that new entrants to the industry have the up to date experience that tech employers need most, as well as making a career in tech more accessible to a wider range of people and making the industry as a whole more inclusive. We are proud to be working with an organisation that holds the same values as we do.
Our move comes after a recent government paper found that the "existing university curriculum in Computer Science is falling short of expectations and not meeting the needs of employers seeking tech talent", pointing out that despite the UK's need for new tech talent, Computer Science university graduates have the highest proportion of unemployment. (UK Tech Competitiveness Study, 27 May 2021)
The iO-EyUp partnership aims to tackle this issue by drawing on our decades of experience in the tech industry. 
Chris May, founder of iO parent company Mayden, launched iO Academy in 2015 as a solution to the UK-wide skills crisis that was impacting Mayden's own need for new talent. Using the expertise of the existing development team, they created a course built around a solid foundation of programming principles, extensive practical experience, and the latest technologies that were most in demand by employers. 
EyUp has been launched with the same ethos of innovation, expertise and accessibility. Since being founded by David Richards in 2005, the data software company WANdisco has worked with some of the largest names in tech and achieved a successful listing on the London Stock Exchange in 2012. That experience now backs EyUp, a Yorkshire venture which will create software developers, generate jobs and invest in start-ups across the North of England.
iO Academy Director Mike Oram said "iO Academy and EyUp both come from successful, forward thinking tech companies who know exactly what the tech industry needs. With our expertise in the industry, we are delighted to be working together on giving people exactly the right skills to fill the talent gap in tech.
"After iO Academy was named as 6th best coding bootcamp in the world by SwitchUp last year, demand for the course soared. We've been looking for an additional location to make the course even more accessible, so we are delighted to be able to make this move north, and support more UK regions as exciting and innovative tech centres outside London."
WANdisco and EyUp Founder David Richards said: "Local and global economies are crying out for people with the right skills – latest annual figures show more than 150,000 digital tech job openings in Yorkshire and 4,400 in Sheffield.
"EyUp will teach people to code, help them find jobs as developers, nurture new start-ups and contribute to social and economic wellbeing.
"Education should be the foundation of regeneration and EyUp will help individuals realise their potential and spread success across our communities.
"We want to provide a meaningful alternative to university by offering more hands-on experience in four months than students would typically get in a three-year degree programme.
Mayden and iO Academy Founder Chris May said: "As owner of a tech company myself, I know from experience the challenges companies face in finding new talent. We started iO Academy as a solution to this problem. By drawing on the expertise of our own tech team we came up with a practical course that, six years later, has proven that it really works in getting complete newcomers to be industry-ready in a short timeframe.
"We are delighted to be partnering with EyUp to move into Sheffield as our second UK location, and to share our successful model with people of all backgrounds who want to build careers in this exciting sector."
The Full Stack Track is now available in Bath, Sheffield and online, with the first Sheffield course starting in August 2021. The course is now open for applications for both Bath and Sheffield. 
EyUp Skills is also recruiting for software developer trainers to join the iO/EyUp team, and is inviting applications now.