Back to all posts
Mayden Academy alumni win Development Team of the Year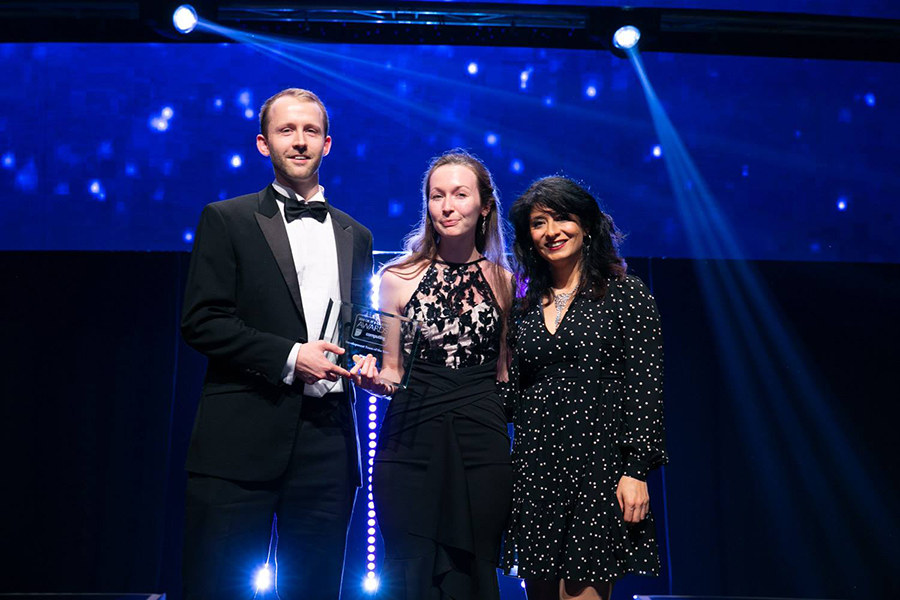 We are incredibly proud to announce that seven of our alumni were part of the Mayden team who won the inaugural Development Team of the Year award at the recent UK IT Industry Awards.
The awards, held by the British Computer Society and Computing magazine, are the national benchmark for outstanding performance in computing, and focus on the contribution of individuals, projects, organisations and technologies that excel in the use, development and deployment of IT.
From noobs to award-winners
Almost one third of the winning developer team were trained by Mayden Academy. Many of the graduates on the team came to us with no coding experience at all, and only a few years later are now achieving national recognition for their work. This really backs up what we believe – if you have the enthusiasm, and work with the right people, you can become an amazing developer regardless of your background or experience.
Mike Oram, our lead trainer, said: "We're really proud that so many of our graduates are having their work recognised nationally by this award. To be part of an award winning dev team with just two years' experience is fantastic. It's a testament to their hard work and to the calibre of those they work with at Mayden."
Agile approach impresses
The development team were celebrated for their adoption of agile methodologies, and for helping the rest of the company to embrace agile working.
The agile way of working is something that is a core tenet of how we teach at the Academy. It is incorporated into the course from day one, and all students are formally trained as certified scrum masters. We are one of the few coding bootcamps in the world to offer agile certification as part of the course.
The Mayden development team's commitment to agile was a key factor in convincing the judges that they were worthy winners of the best development team award, after demonstrating that the agile approach resulted in company-wide productivity improvements, software quality improvements, and more frequent customer deploys.

More than just developers
The judges also praised the way Mayden's flat company structure allows developers to have a direct involvement in strategy.
As part of this they run open brainstorming sessions to generate ideas, promote best practice across different areas of the business, and take a customer-centric approach, with 80% visiting clients in person in the last 12 months.
Chris May, MD of Mayden and Mayden Academy, said: "Our development team is the driving force behind our product, the champions for our users and a crucial voice in the way that the company is structured and run," adding "They continually go above and beyond what is traditionally expected of a development team, and we're absolutely thrilled that their efforts have been recognised nationally."
It could happen to you
We don't really hide the fact that we are proud as punch when it comes to our students – we'll take any chance to boast about their achievements and the incredible careers they go on to have as developers. But it makes it easy when they go on to do such great things.
We feel privileged to train such amazing people, and to work for a company with such solid values. Huge congratulations to the winning team.
Interested in taking your career in the same direction? Find out about studying with us