Back to all posts
From boredom to brilliant: Rhymes' story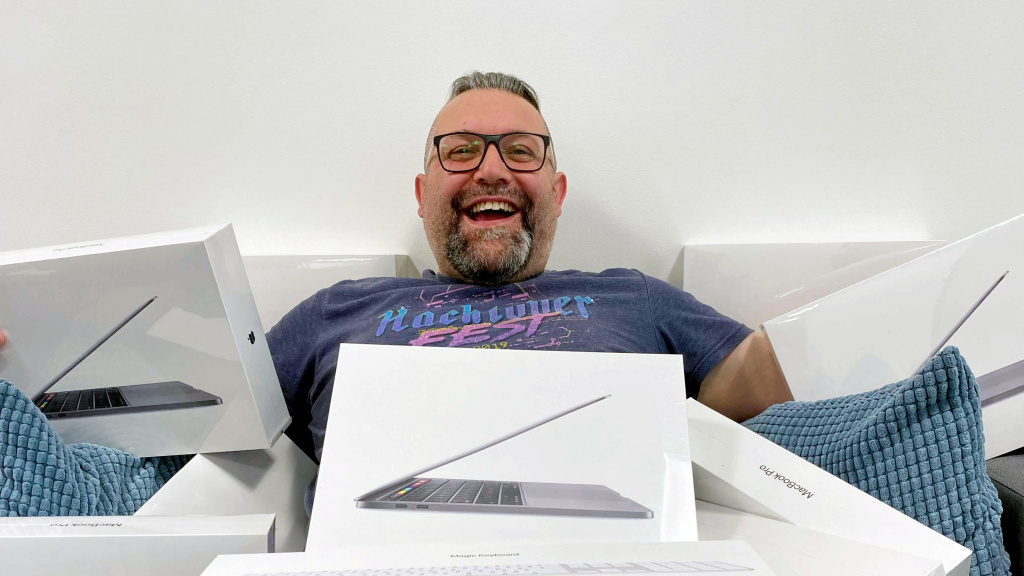 I'm Rhymes, 2016 iO Academy grad and now Server Side Lead at fast-growing fintech startup Seccl.
I'd had a range of jobs previously. I've been a recruitment agent, administrator, office manager, team leader, assistant pub manager, and worked for the NHS in child health administration.
But I was bored. Bored of badly paid jobs, bored of being treated badly by management, bored of hating my job every day.
A way out
I'd always dabbled with tech. I've played around with computers since I was young – I remember copying programs out of a magazine onto the Commodore Plus4 approximately 300 years ago. I'd always been the guy around the office that people come to for questions – "the printer isn't working", "x is broken on my computer – can you fix it?" I'd made geocities websites and messed about. But never anything serious.
Then for some reason, I came across Udemy and a 'zero to hero' type dev course. I started doing that in the evenings just for fun and enjoyed it so much I thought: "I could handle doing this day to day. I just need to get good!".
I've always believed there is nothing you can't do – there's the mystery of 'natural talent' but with enough practice, you can be good at anything.
Broccoli games and community
I knew from the start that I'd made a good choice going to iO; mostly because I knew I'd never again have to go back into a job I didn't enjoy.
My teammates were all nice. Jess made great baking. Aimee made wicked good dinosaur and broccoli games. Ali was funny. Ralph was a dude and Luke I felt was a bit like a younger me – trying to find a good career after not massively enjoying what he had been doing.
And obviously we had Mike, my trainer – so much knowledge, and so good at passing it on. It still impresses me to this day how little he referred to notes, just reeling off hours of knowledge at a time and answering questions off the top of his head. He had solid industry experience. He had been a dev and knew what he was talking about.
When I was at the academy the Mayden devs were also all still working in the same building and we could go and mingle with them for advice/help/crying time as well as sapping Mike of all of his knowledge. It was a brave new world and I just hoped it would pay off.
Pushing through the pain barrier
It wasn't all easy though. By the time I joined the academy, we had two young children, with rent and bills to pay. The prospect of no salary for four months was daunting. Then the fear of not getting a job at the end of it. I thought I might not be as employable as the keen and energetic youngsters in my cohort (spoiler: I showed those pesky kids!).
The first couple of weeks were fairly easy, so I felt confident I could do the whole thing and do it well. But after HTML and CSS we started on PHP programming. I found it tough – I remember being so confused by a forEach. Not the concept, but the syntax.
With my kids being 3 and 1 years old, I was always tired. I struggled slightly with PHP so I put in more hours. I was up most days at 3 or 4am either reading new things, going over notes, or trying to get something to work. Kids would get up. Breakfast etc, leave for academy, come home, dinner time, put the kids to bed and start working again – reading, learning, practising. I would stop around 10 or 11 most days.
I was exhausted, but figured that I should make the most of it as I wouldn't get the chance to have this sort of access to one on one help after the academy was over. Though I was wrong about that.
There were also lots of good times. My proudest moment was passing the ZCE exam just after the end of the course, becoming a Zend Certified PHP Engineer (an industry-wide standard that recognises PHP expertise). I remember hiding my eyes in the exam room while it was loading up the result. But I did it!
When the feeling is right
I was over the moon when I started my new job. I'd had a few interviews that made me think: maybe this isn't the right thing for me after all. I was just turning 40 and felt that playing with Lego in an interview wasn't quite the job fit I wanted.
Then I met Dave and Rebecca at Seccl, an iO Academy hiring partner, and it just felt right. There was a bit of risk involved, as at the time they were a very young startup. I was the first dev they hired other than Dave himself, the founder, who had written code himself over the previous year or two.
Dealing with different tech was scary too. We had studied mostly PHP at the academy, and Seccl was all nodeJS and mongoDB, which at the time was covered less in-depth at iO. Since then I've learned about a million new things. I've learned so much about AWS, tons of Mongo. I've had to do weird stuff with dotnet, worked with Terraform and Ansible, dabbled with React. I've been involved with setting up settlenet connections with BT, I've learned to make my own ethernet cables, and, standard for a startup, I've become a flatpack furniture assembler supreme.
The support from Dave was great. We got on really well (still do) and he was totally prepared to invest time in me as a new developer. You get the feeling some people talk the talk but don't walk the walk when hiring junior devs. He was the opposite – he knew that it would be beneficial to us both if we put the work in together.
It gave me confidence, and still does to this day. I was never babied or treated as a junior/second class citizen. I was asked my opinion on tech and architecture decisions from day one. If I had an opinion, it was considered. If I didn't, it was a comfortable enough environment to say I didn't know.
A growing career
I've been with Seccl for three and a half years now. I worked my way up to become the server side lead, while Seccl themselves have grown so much they got acquired for £10m last year.
I've had the chance to build parts of the application that didn't exist when I joined. Parts that now form the foundations for things we build on top of day to day. I get the chance to experiment. I get encouraged to spend time learning new things. I get to help and support our new devs. And I get to feel I really have been involved in building us up from a startup in a co-working office to a fast growing contender that will make a big difference to the industry in years to come.
My new career has been fantastic. It was a tough decision to make at the start; a big expense to pay for the course at iO Academy, and a long time with no income. It was a gamble. But it certainly did pay off.
Startup life as a dev has been great for me – I've always not liked seeing things left not finished. In a startup, everyone has to chip in, or nothing gets done. Becoming server side lead for a successful company is a pretty great advancement for someone that didn't really know how to code four years ago.
Reaping the rewards
In my personal life, we are far more financially stable now. We own our own house instead of renting. And I get to go to work every day without hating it before I even start.
On top of that, there has been a great continuing support network. Access to the iO Academy Slack meant I could keep asking questions when I started work and the trainers were happy to answer them.
I've also loved being able to go back myself to share and help new students. I regularly give guest lectures, which is a good boost for my confidence in public speaking as well as (hopefully) being informative for the students. And I've made great contacts and friends, with some graduates even coming to join me in the tech team at Seccl.
Take the chance
For anyone looking to make the kind of change that I did, I'd say it's always a gamble, and the stakes are different for everybody.
You will have to work hard – what you get out will be directly proportionate to what you put in.
The rate of employment of graduates from the academy is high and their network is even greater now than it has ever been before. Pandemics aside, you shouldn't struggle too much to find a job at the end. Finding the RIGHT job will be down to you.
I'd like to say if I can do it, anybody can. But apparently, I'm not normal…