Back to all posts
Women who (learn to) code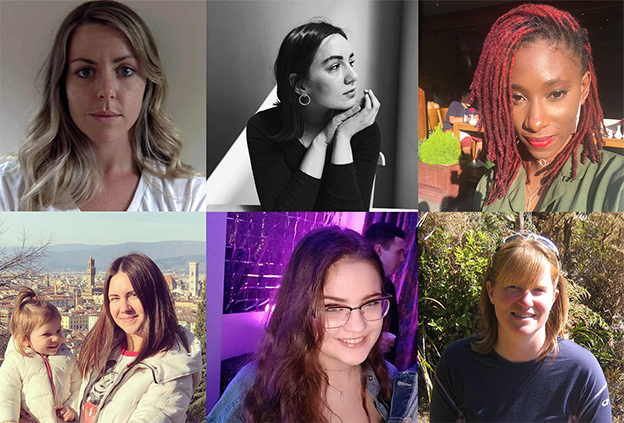 Have you ever watched coders in films and thought that you need a brain the size of a planet to be a developer? I did.
In fact, it took twelve months from becoming interested in software development as a career to taking the first steps toward finding out whether coding might be for me. That's despite the fact that I heard different people talk about the shortage of software developers on a daily basis through my previous job.
You might forgive me for imagining that I would be the only woman at the Academy when you read the alarming statistic that only 19% of our tech workforce are female. I also fell for some other stereotypes, imagining that I would be surrounded by twenty-somethings who couldn't look me in the eye. Fortunately, none of the above is true. In fact, the gender split of Academy students currently is 40% female, and all of our fellow students are 100% sociable.
To mark International Women's Day, I took the opportunity to find out how the other women currently learning to code with Mayden Academy got started. 
Alice
"I was given the opportunity to do this amazing full-stack development course as an apprentice with the support of one of Mayden Academy's hiring partners, Rocketmakers. Prior to starting at the Academy, I was working at Rocketmakers as an intern. It was there that I became interested in software development. After six months of curiously looking over people's shoulders, the Mayden Academy taster session was suggested to me. I loved it! I discovered that front-end development was a great mix of design and problem-solving logic; this worked out to be the perfect career route for me and I'm so excited to see what the future holds."
Audrey
"My two brothers are both developers so I was aware of the industry, but it wasn't until a couple of years ago that I started coding as a hobby and caught the bug. My previous jobs had included law, cooking, farming, and the foreign service, but nothing ever felt like a good fit. After playing around with HTML and CSS I decided this was definitely a career that could keep my interest for a long period of time so decided to give it a go. I got involved in some meetups and made friends with professional developers, including Mike from Mayden, who were all incredibly helpful whenever I got stuck on anything. I eventually started building basic websites for friends and even made a little money from my coding, which solidified my desire to fully move into development as a career."
Jamila
"I first became interested in programming after watching an MIT computer science lecture on YouTube. It inspired me to begin learning Python, and I then went on to study a computer science degree part-time with the Open University. During my five years of study my appreciation for software development has kept growing. I love being able to explore the creativity that software development gives me the tools to express, while also continuously challenging myself as I learn. I decided to study at Mayden Academy because I wanted to be in an environment that would help me to build on my existing knowledge while giving me practical experience with team work and projects for getting into the industry."
Liliya
"I have an engineering degree and previously worked in the automotive industry which I loved; I've even worked at Tesla in Milan. I started looking to expand my skillset and wanted to make sure that I invested in learning skills which will remain relevant and valuable.  At Toyota I worked as a Product Owner; a bridge between the development team and the users. I really enjoyed that job, and it was that which inspired me to start looking for software development training courses so I can develop a new career in coding. When I found Mayden Academy I thought that four months to a developer job seemed too good to be true. I took the aptitude test, which I was super nervous about, and got offered my place. If someone told me three months ago I would be coding, I would probably laugh and say I'm too old at 34 to start learning software development. The Academy has made me realise that it is possible. Today is my fourth Friday on the course and I KNOW that this is one of the best decisions in my life. My advice to all women out there; don't be scared of going out of your comfort zone. It's the best thing that could happen to you. And never tell yourself "I have no possibilities"."
Lucy
"My past is really different to my present. I studied photography design, I was obsessed with fashion. All I wanted was to be a successful fashion photographer, however I decided to move to England for one month to experience a different culture and learn a bit of the language… I've now been here eight years. I was always determined to be great in whatever I was doing. One of my favourite jobs I had was a manager of a co-working space in Bath where I realised how exciting and innovative the tech industry is. I became friends with software developers working for startups and I was in awe of their passion, freedom and creativity, which encouraged me to try it myself. I met an amazing girl called Lucia who told me so much about it and then introduced me to Mike, who is now my tutor at Mayden Academy. I can't say enough good words about both of them, for opening my eyes to this amazing opportunity of learning to be a full stack software developer. "
Kate (me)
"Learning to code is a career change for me. I was looking for a tangible, vocational skill to complement the soft skills I've picked up through my career to date. Someone told me that once you know how to code, the only limit is your imagination. I was captivated by that idea and, now that I'm learning, I'm hooked on the process. It took me a long time to figure out that this is something that I could do. I was put off by the depiction of coding in films; a fear of the aptitude test and a lack of understanding of the industry. If you are interested in coding, my advice would be to ask a developer about their job, find out more and go to a taster session. Tech has a culture of collaboration; techies want to tell people about their industry and welcome newbies with a helping hand."
If you're interested in coding but you don't know much about it or don't know if it's for you, come along to a Mayden Academy taster session. Academy students often help out, so it's a good chance to have a chat about their path to coding.
The next one is Tuesday 26 March, and you can sign up here: https://mayden.academy/free-coding-taster-sessions/