Back to all posts
From designing to making: Alison's story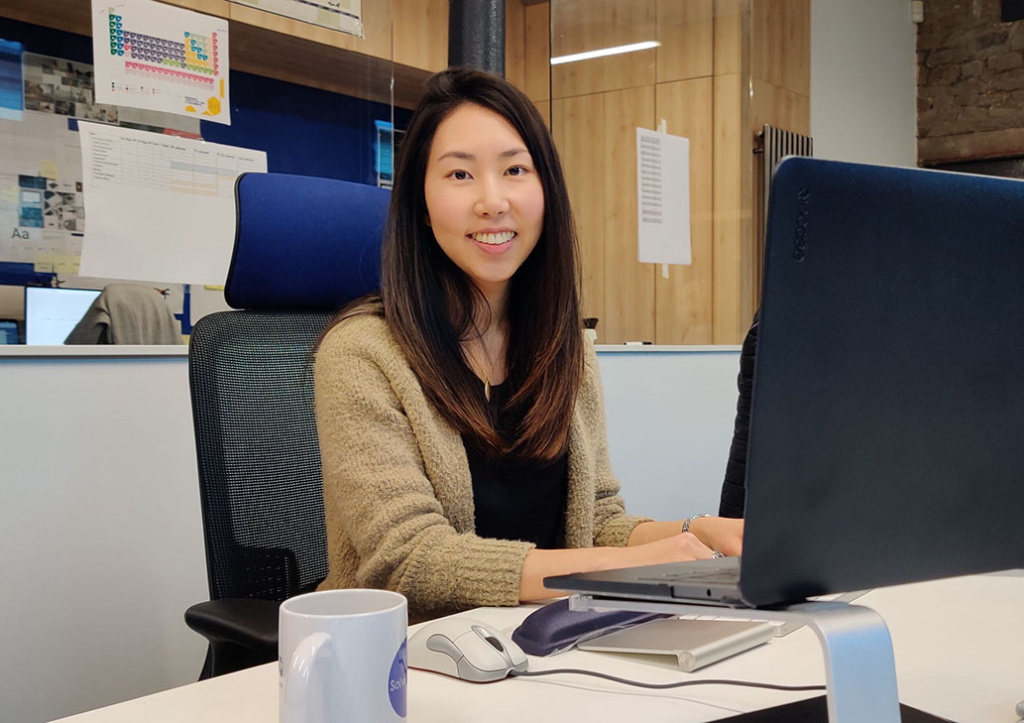 I'm Alison, a 2019 graduate of iO Academy now working for a London product agency called Planes.
Before becoming a developer I was a UI/UX designer (or a product designer) working for different SaaS companies. Before that, I did web design and also graphic design, mostly working as a freelancer. In college, I majored in fashion. So my background was really creative, and it's been quite a journey getting here.
Making designs a reality
As a designer I was working in small teams and sometimes did a bit of front-end development. UI design and UX design can't be completed with just graphics – to make the user interactions I wanted and bring my design ideas to life, I knew that I needed to learn how to program.
I began digging into coding and started learning on my own. There were a lot of great resources as well as very kind communities online and the job prospects looked great. I also realised I enjoyed it a lot.
When I was coding, I didn't know how the time disappeared so fast. Whereas when I was doing design work it was the opposite.
This became the biggest motivation for me to make the career transition – I wanted to make money while doing something I truly enjoy.
I felt like there wasn't enough room for me to grow as a designer anymore, and things started to feel repetitive. With programming though, I felt challenged. And seeing how fast the tech scene changes, I thought I would always have a room to grow and remain feeling challenged and excited.
Starting over
However I was a designer who already had work experience, was getting paid well, and was comfortable (if bored) in my career. If I were to make the transition, I knew that I would have to start from the beginning as a junior. That was scary. And I didn't have a computer science background, so although I was keen, it was difficult to feel confident that I would be qualified enough.  
I decided to study at iO because I knew that with them I would graduate with a level of confidence I couldn't have achieved myself. I also knew that learning in an environment where you have mentors and classmates works great for me. I could learn what I really wanted to learn and in the end, have the knowledge and the qualification for a job I wanted.
I was honestly really worried about the iO Academy entrance test though. I thought it would be super difficult. It's been a while since I graduated from school, I don't remember much maths, and I thought I won't be smart enough to be accepted. But I was! I remember how happy I was when I got the email that I was accepted.
A practical experience
iO Academy is located in a beautiful little city called Bath which is not far from Bristol where I lived. The building was so cute and felt cosy. My class consists of 8 students, and all the instructors, staff, and students from other classes were very welcoming.
I loved the design of the curriculum which was one week of learning and the following week of building projects. This gave me plenty of exposure and practice for the actual working environment later. 
Shortly after the course started, we had our scrum training which was fun and a great way to get to know my team, and we all got our Scrum Master certificate which was valued by many companies later.
All the project weeks were run in scrum and were so much fun. I felt really proud of my team running sprint planning, crossing out the tickets, doing sprint review and retro.
What I appreciated the most about the training though is how GENUINELY they cared about us. I never felt them being business-y – you know what I mean. Sometimes you get that feeling even in schools. The mindset and attitude they had toward us was really 'on it'. It wasn't just like "Okay, this is a 16-week course and I will share my knowledge with you for that time." It was more like "Hey, you are now part of iO, and we're doing this together, and we will be with you all the way and even after." 
I love the energy and support system at iO community and am happy to still be a part of it. I will always be here to welcome new people and support where I can. 
From meetups to workmates
I got a lot of job opening information from iO Academy and also searched for things on my own. However the first job I got was actually from a person I met through the Bristol CodeHub meetup group. She posted about a job opening at a company she was working at and I applied. Having a reference in the company made it a lot easier for me to get an interview and finally get a position.
I highly recommend getting involved in different tech community groups while you are learning, because as well as being fun, it can help your career like it did for me. My other advice on job applications is that it's really important to make your CV and cover letter look competitive, which takes practice. Take some extra time when you build your own portfolio; do a lot of benchmarking and see how others' websites look like. Also, invest your time on building interview skills. 
I was exhilarated when I finally started my new job. I was happy everyday to wake up and go to work. Working as a developer, doing what I enjoy, and getting paid for it. I'd wanted to make this career transition for the past 2-3 years and after graduating from iO, it actually happened!
Since working as a developer, I've kept learning so much more. Working in a production environment is another level. There's so much to learn. I learned new tech stacks such as GraphQL, Apollo, Laravel, TypeScript, and React Native. I enjoy a lot working with these new tools, and it is great that there will always be something new I can challenge myself with.
Onwards and upwards
I'm so glad I did the course. It was a must for my work. Now that I'm in an actual working environment, I understand just how fast all the learning happened. 
For anyone thinking of studying at iO Academy, my best advice is that it's important for you to know whether programming is for you. It doesn't mean you need to have much knowledge or background, because they cover all of that, but you should at least know if you're going to enjoy it. Try FreeCodeCamp for example, and see if you like it. 
I am so grateful to be writing this now. I was someone who eagerly needed and wanted this opportunity to be able to get training at iO and look at me now – I successfully finished the course and now I'm a professional developer!
In the end I got a successful career transition, friends, a community and good memories 🙂 What more could I ask for?